Our beer count is around 640 beers.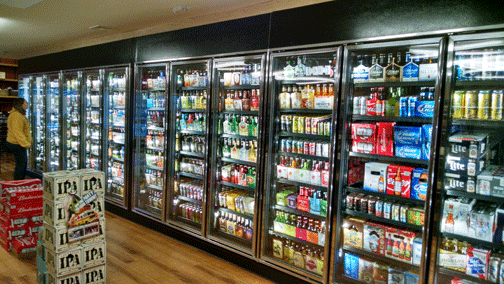 We have make your own six packs, the shelves currently have over 600 different beers, hard soda, hard ciders. Examples of using this, someone purchased 40 different beers for a friends birthday. He loved it.
On easter sunday, purchase 20 different beers of (Pilsner, lager, ipa, porter, stout..etc). the darker the beer, the more points its worth. So you place the beers outside, so after dinner the adults go outside and find the beers. If you refuse to taste a beer, you deduct the points, if you taste it, you add the points. whoever has the most points wins. This is a fun easter egg hunt for the adults.
Here are the New Hampshire beers which we carry.
603 Brewery, Londonderry
7th Settlement, Dover(Closed)
Abel Ebenezer, Merrimack
Bad Lab Beer, Somersworth
Beara Irish Brewing, Co. Portsmouth
Belgian Mare Brewery, Alstead
Big Water Brewery, Salisbury
Branch & Blade, Keene
BreakAway Beer Works, Manchester
Burnt Timber Brewing, Wolfboro
Candia Road Brewing, Candia
Concord Craft Brewing, Concord
Deciduous Brewing, Newmarket
From The Barrel Brewing, Londonderry
Garrison City Brewworks, Dover (have stopped distribution)
Granite Root Brewing, Troy
Great North Aleworks, Manchester
Great Rhythem Brewing, Portsmouth
Henniker Brewing, Henniker
Hobbs Tavern & Brewing, West Ossippe
Kelsen Brewing, Derry
Laughing Crow, Amherst
Lithermans Limited, Concord
Lone Wolfe Brewing, Wolfeboro
Long Blue Cat Brewing, Londonderry
Moat Mountain, North Conway
Neighborhood Beer Co., Exeter
Oddball Brewing, Suncook
Out. Haus Ales, Northwood
Pipe Dream Brewing, Londonderry
The Portsmouth Brewery, Portsmouth
Redhook Brewery, Portsmouth
Rockingham Brewing, Derry
Smuttynose Brewing, Hampton
Squam brewing, Holderness
Stark Brewing, Manchester
Stoneface Brewing, Newington
The Outlaw Brewing, Winchester
Throwback Brewery, North Hampton
Tuckerman Brewing, Conway
White Birch Brewing, Nashua
Woodstock Inn Brewery, North Woodstock